BONES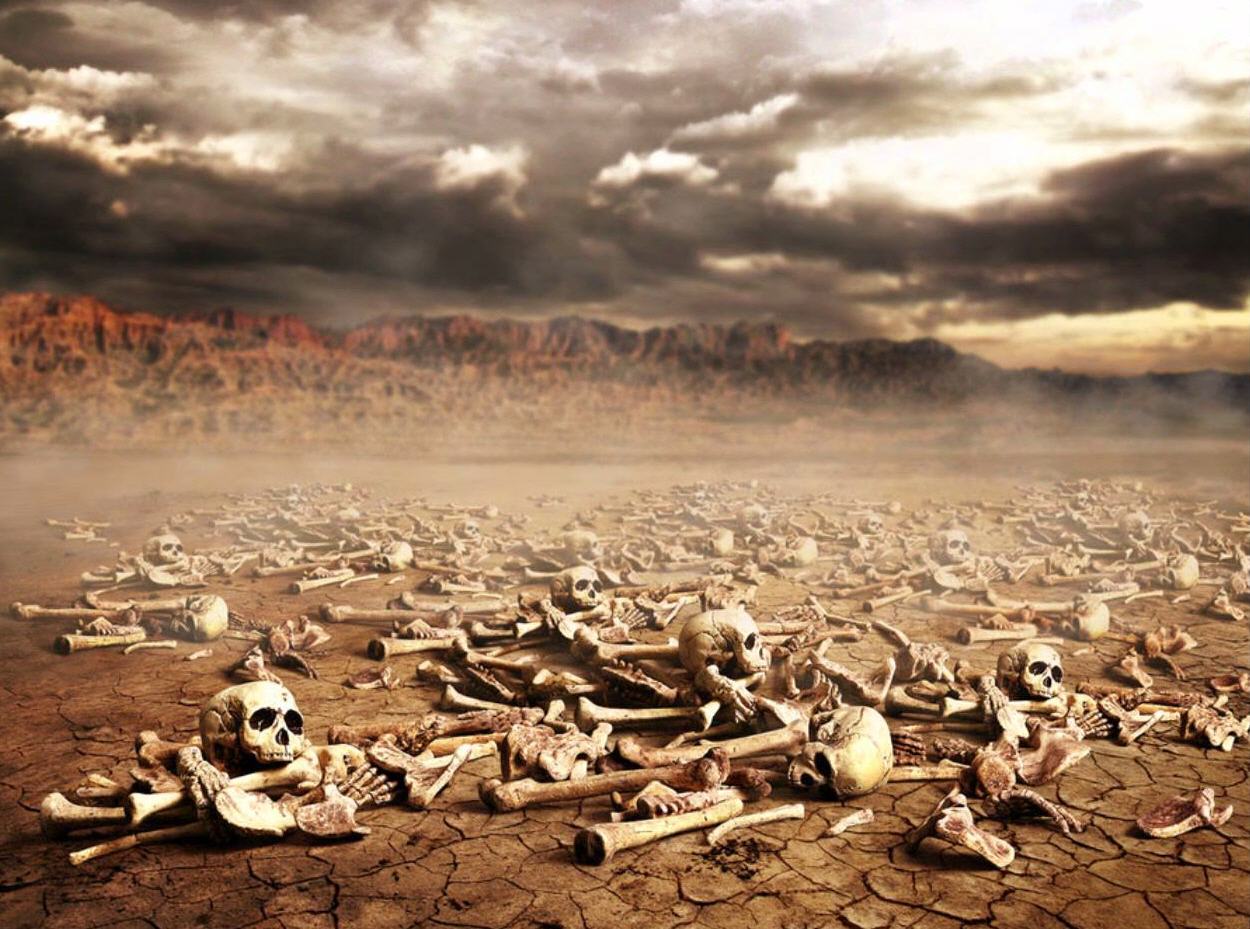 BONES
By Michael K. Farrar, O.D.
© God's Breath Publications
The elderly man gazed up at the night sky. He marveled at the plethora of lights scattered across the dark expanse. His God was truly amazing to have created such a beautiful expanse to gaze upon. He felt somewhat insignificant as his eyes scanned his Lord's creation, but he knew that he was loved deeply and intimately by his Creator. The Lord had demonstrated His love and concern through answered prayers, providing for his needs and demonstrating his mighty power on numerous occasions. He had served God for many years as a prophet to the chosen people of Israel and knew that God had much more in store for him as well as His children of faith.
The aging eyes of the old man squinted to see the details of the majestic night sky. He sensed God was near; almost instantaneously a blinding light enveloped him. He instinctively shut his eyes from the painful white light. The brightness vanished and he cautiously opened his eyes. He was startled to see that he was no longer in the lush garden where he had been observing the evening sky. Before his eyes was an endless parched valley of sand. Gazing back and forth he saw that the sandy floor of the valley expanded to the distant horizon on all sides. Even more surprising to this holy man of God was that lying on top of the hot dry sand were thousands and thousands of dry, bleached bones. Wisdom and experience told him that these bones were not the bones of animals, but of men and women. A sense of fear and concern began to grow within him.
He heard a voice speak. It was the voice of the Ancient One, the Alpha and Omega. It was the voice of God Himself. "Can these bones live?"
Humbly he replied, "Only You know Lord, if such a thing is possible."
His God responded, "Preach to these dry bones. Say to them, 'Dry bones; hear the Word of the Lord. This is what the Sovereign LORD says: I will make breath enter you and you will live. I will attach tendons to you and cause flesh to come upon you and cover you with skin. You will come to life and you will know that I am the Lord God Almighty.'"
The man of God obeyed without hesitation. He was fearful of what might happen to the bones, but more fearful of his Lord. He preached to the dry, lifeless, white bones lying upon the valley's sandy floor. His voice echoed in the dry desert air as he spoke the words the Lord had given him to proclaim.
As the old man preached to the dry bones, a noise began to rise up from amongst them. Hardly perceptible at first, it grew into a more noticeable sound of a rattling and clattering of bones against one another. It sounded like some unearthly musical instrument, clinking out an ominous tune. He continued to preach as he noticed the bones begin to move together and take form. Human skeletons began to assemble upon the valley floor. Hands, arms, legs, feet, skulls took shape, moving across the sand as they sought out their related parts. Each bone left a small trail as it moved, as if they were writing on the valley floor in an attempt to communicate some secret message in the sand.
Each skeleton upon completion lay there and looked up at the prophet with a toothy grin. The prophet continued to preach.
The bones began to change and become moist. Tendons formed tying the bones together for support. Flesh appeared and covered the bones and tendons. Skin formed over the flesh and the skeletons took on a more human appearance. There was still something missing from these resurrected individuals. Something elusive was still needed. It was the breath of life.
God spoke again to the elderly prophet, "Preach to the breath. Say to it, 'This is what the Sovereign LORD says: Come from the four winds, breathe into these slain, that they may live.'"
The old man did as his Lord commanded. He preached again fearfully knowing that the power of his God would give life to these dead bodies that lay before him. A tremendous wind swept through the valley as if it were the breath of God Himself. The chest of each lifeless man and woman rose up as it filled with the breath of life. The holy man continued preaching as he saw thousands upon thousands of this holy army of God rise up and stand before him, breathing, living, looking at him with penetrating eyes of commitment and dedication to the God who had revived them.
~~~
Is this an excerpt from the script of some Hollywood movie?
Possibly it is a portion of a chapter from one of the current Science Fiction novels you might find on the shelves of Barnes and Noble?
Actually it is from Holy Scripture and can be found in Ezekiel chapter 37. There are numerous interpretations as to its meaning, but no matter which way you take it, it is an awesome vision that this prophet of God, Ezekiel, beheld. Many Christians believe that this is a prophecy of the restoration of Israel, not only gathered together as a unified people, but each and every one of them committed to serving the God of the Bible.
Such a descriptive vision demonstrates in graphic form how God looks out for his children and remains active in His creation. He is not some sleeping giant watching time pass by as those who believe in Him perish. This prophecy from the book of Ezekiel shows the power of His Word, the pervasiveness of His will and the purity of His character. It gives each of us hope that if He can put sinew, flesh and skin onto skeletons and breathe life into them, then He can and will resurrect us in the end and grant us glorified bodies so that we may live with Him forever.
Ezekiel's vision is a hope, not only for God's chosen nation Israel, but also a hope for His royal priesthood, every Christian believer (1 Peter 2:9).
Romans 15:4 speaks of this when it says, "For everything that was written in the past was written to teach us, so that through endurance and the encouragement of the Scriptures we might have hope."
God gave us the Old Testament and such prophesies, not only to show how He fulfills past promises, but also to demonstrate that He can be trusted to fulfill those promises yet unfulfilled.
1 Thessalonians 4:16‑18 talks about the promise of Christ's return and how both the dead in Christ and those still living will be caught up and taken to be with Him in the air. We have a marvelous hope to believe, trust and rely upon.
1 Thessalonians 4:16-18
"For the Lord Himself will descend from heaven with a shout, with the voice of the archangel and with the trumpet of God, and the dead in Christ will rise first. Then we who are alive and remain will be caught up together with them in the clouds to meet the Lord in the air, and so we shall always be with the Lord. Therefore comfort one another with these words."
Do you feel that you are spiritually dry as the bones in Ezekiel's hot sandy desert? Are your spiritual lips parched because you have not drunk from the living water that Jesus offers? Do you feel disjointed as if you had no tendons, muscle or flesh to hold your spiritual skeleton together? God can bring new life to you with His everlasting breath. Let the Holy Spirit fill you with God's power and strength. Seek the Lord in prayer to be renewed and refreshed by the life of His Word. Seek the Lord and you will be amazed at how he can restore your flesh and spirit for service and worship of the King of Kings. Christ living in you, the Spirit guiding you, God's Word directing you will give you the hope of the resurrection awaiting all those who trust in the name of Jesus Christ.
John 5:24‑27
"I tell you the truth, whoever hears my word and believes Him who sent me has eternal life and will not be condemned; he has crossed over from death to life. I tell you the truth, a time is coming and has now come when the dead will hear the voice of the Son of God and those who hear will live. For as the Father has life in Himself, so he has granted the Son to have life in Himself."